22 Mar
2:00pm – 5:00pm, 22 March
Victoria Park, Camperdown
Our friends in SUWO are holding their bi-annual Amazing Musicians' Race, and you're all invited!
Held on the University of Sydney Darlington/Camperdown campus, the Race will challenge the skills, daring and ingenuity of teams competing for glory and pride!
The race will be held on the 22nd of March, and begin at 2pm in the playground at Victoria Park. The race is expected to be finished before 5pm. There will bw a prize for the winning team!
This race is open to SUWO, SUSO, SUMS, JazzSoc, Madrigals and MUSE, but feel free to bring along friends. Contact info@suwo.org.au for more information.
26 Feb
26 – 28 February
Front Lawns, University of Sydney
Whether you're a returning member or wishing to join SUSO in 2014, don't forget to drop by our stall on the Front Lawns during O-Week (Wednesday, 26th – Friday, 28th February). Returning members will need to rejoin the society for 2014 (even if you've already emailed to let us know you're returning) and aspiring new members will need to organise an audition time. We'll also have brand new t-shirts available this year, which you can either buy at the stall or afterwards at rehearsals.
Auditions will be held during Week 1, in front of a small panel consisting of our conductor, Luke Spicer, and some subset of the executive committee. There's no grade cutoff for joining, though as a general guide, most players are around 7th grade AMEB or higher. Auditioning only takes a few minutes; you will be asked to perform a short piece of your own choosing (2–3 minutes, unaccompanied), and sight read a given passage, selected by the panel from the 2014 repertoire. Don't stress too much if you've been taking it easy post-HSC and feel that your playing has degraded somewhat — most new members will be in the same boat.
Note that as SUSO is part of the USU's Clubs and Societies program, all members must have a current ACCESS card to join.
If you can't make it to O-Week, but are still interested in auditioning, please fill out our online audition form, and we will get back to you shortly. Good luck!
24 Feb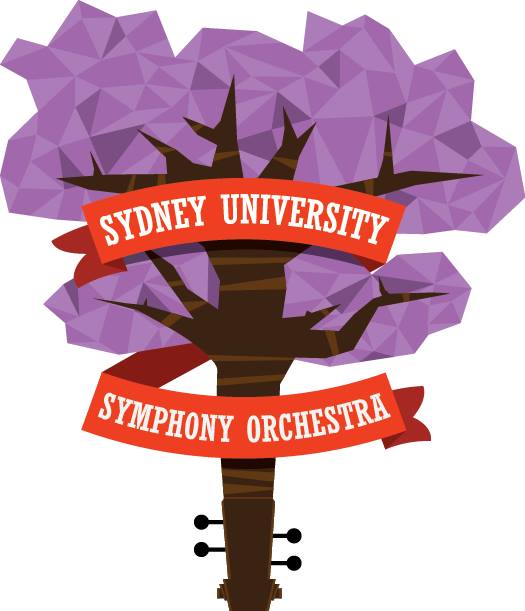 Hello friends of SUSO, and welcome to a big new year! Whether you're a playing member, a regular concertgoer, or just starting uni and looking for some musical fun, we have plenty to offer!
We are excited to announce a number of changes that will be taking place this year. First and foremost, this year we bid farewell to George Ellis, SUSO's conductor for the past eight years. We are all very grateful to George for his hard work over this period, and wish him the very best in his future career. In his place, we will be welcoming Luke Spicer as our Principal Conductor, and David Saffir as our Assistant Conductor and String Coordinator. Returning players will remember Luke and David's fantastic work in preparing for our final concert of 2013.
As you may have noticed, we are also introducing a clean new look for SUSO in 2014. With a colour scheme evocative of the University's famous tree, and smooth, bold lines that reproduce well in print, our new design was inspired by the various forms of the orchestra: the scrolls of the strings, the keys of the woodwind, and the blast of air emitted by the brass.
Finally, we have a great selection of repertoire to look forward to, including:
Dvořák, Symphony No. 9, From the New World
Tchaikovsky, Symphony No. 6, Pathétique
Prokofiev, Romeo and Juliet selections
Tchaikovsky, Swan Lake selections
A mystery composition, selected competitively, that we will premiere (more details to come!)
Our third concert will be an exciting joint production featuring SUSO, SUMS and SUWO — the first ever collaboration between all three societies, and a sort of gala concert to show of the musical talents of Sydney Uni students.
We hope that you are all as excited about this year as we are!